Hello, crafty friends! This is Maryám and I am so happy to be back here at the Altenew Mixed Media Blog. For today's post, I am going to be working with the new Radial Stars Cover Die and I will be sharing three fun different ways on how to use this awesome cover die.
First Project – "Fun Times"  Scrapbook Layout
For my first project, I  created an 8 1/2″ x 11″ mixed media layout. I started out by taking a sheet of white cardstock and covering it with a layer of white gesso.
Next, after the gesso was fully dry I grabbed my Artist Watercolors 24 Pan Set and added some color to the background using the Watercoloring Kissing Technique. To do this we need a piece of acetate or anything you want to deliver you watercolor on, and then we are going to load up our brush with paint and water and spread it around. Next, we are going to take the acetate sheet, flip it, and "kiss" the paper with it.
To continue with the process, I took my Radial Stars Cover Die, and using my die cutting machine, cut two panels out of a sheet white of cardstock. I used these as stencils and applied Embossing Paste through them with the help of my palette knife. Later on, I also used the panels as a template to outline some stars around the page.
For the title, I used the letters from the Simple Alpha Die Set and cut them out from one the washi tapes of the Rose Petal Washi Tape set to out "fun times".
Lastly, I added a couple of floral pieces that I fussy cut from the Floral Flurries Washi Tape as well as some sequins and enamel dots to finish up my design.
Second Project – "Hello"  Card
For my second project, an A2 sized card, I also used the die as a stencil, but this time instead of applying Embossing Pate, I created a colorful ink blended background.
The ink colors I used to create this background are- Puffy Heart, Marigold, Warm Sunshine, Parrot, Mountain Mist, Ocean Waves, Lavender Fields.
For the sentiment of my card, I used the word "hello" from the Hello and Hugs Die Set. And also added "You are awesome!" from the BAF: Fuchsia Set. Lastly, to finish up my card, I added some sequins and enamel dots.
Third Project – "Happy Birthday " Card
After I finished my previous card, I ended up with another colorful background and since I didn't want to throw away all that work, I decided to keep it and create another card.
Because most of the job was already done, thanks to the first card, this one took a just few minutes to complete as I only had to add a sentiment and some embellishments.
To add my sentiment, I cut a circle of about 1.5″ inches out a white sheet of cardstock and stamped "happy birthday" from the Floral Sprig Stamp Set on it.
Let's take a closer look at both of the cards.
That is it for today! I hope these ideas featuring the Radial Stars Cover Die inspire you to create something new! If you have any questions, please leave them in the comments below and I'll be happy to help you.
Have a wonderful day!
~SUPPLY LIST~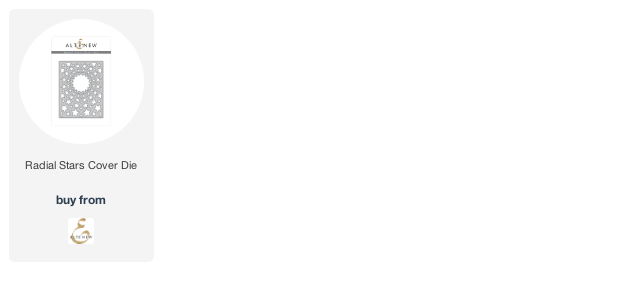 https://linkdeli.com/widget.js?id=36e575d4b4503edd8f9a