Hello, Altenew fans. Lilith here with a new fun stamp focus blog post. Today I will be sharing three easy projects I made with the Simple Roses Stamp Set and its accompanying die set.
The Simple Roses Stamp Set is an outline flower stamp. Sometimes I'm more hesitant to use these types of stamps because I have to colour the flower myself and I still do not feel confident using colouring mediums. I have found a little trick to get myself to use these outline stamps and overcoming my fear of colouring.
Project 1: Add colour using patterned paper
How to:
Pick out some pretty 6×6 patterned papers from the Enjoy The Ride 6X6 paper pad.
Stamp the floral images on the patterned paper with Altenew Embossing Ink.
Add a contrasting embossing powder (Altenew Pure White Crisp Embossing Powder) and heat set it.
Cut out the images with the coordinating die or with your scissors.
Create your project.
For my layout, I started with a light blue washed base which is a patterned paper from the 12X12 Enjoy the Ride Paper Pack. A strip of patterned paper from the Reflection Scrapbook Collection placed two thirds down breaks up the plain background. To give more definition and ground the strip of patterned paper I used washi tape from the Enjoy the Ride Collection to add a border.
The photo is the centrepiece of the layout and to make it stand out I placed it to the left surrounding it with two larger flower clusters and three smaller ones. These clusters frame the photo and draw the eye towards it. The title is a combination of words from the patterned paper and stamps from the Simple Roses Stamp Set.
Project 2: Add colour with simple watercolouring
Watercolouring doesn't have to be difficult. Your flower can be any colour or shade you want it to be and it can be super simple.
How to:
Stamp the floral image of your choice onto smooth white cardstock using embossing ink.
Emboss with embossing powder. I used Antique Gold which looks so pretty with purple/pink tones.
Cut out the image.
Create a quick watercolour wash on some watercolour paper. (TIP: I used a piece I had lying around. When I finish watercolouring I usually have colour left on my palette. I add water and dab watercolour paper on it to use all the colour. It creates fun watercolour background I can use whenever I need.)
For some fun detail, add a small wreath from the Nested Wreaths Creative Cutouts, a strip of washi tape (Enjoy the Ride Collection) and some sequins.
It so colourful and sparkly and most importantly super simple to create.
Once I had created the first two projects, I had enough courage to tackle some a little more complicated and I decided to try colouring with the Altenew Artist Markers.
Project 3: Add colour with Artist Markers.
For the third project which is a tag, I still wanted to keep it simple and picked four shades of red and two shades of green:
Blush, Rouge, Crimson, Velvet
Forest Glades, Evergreen
How to:
Stamp a floral image with Altenew Permanent Black Ink.
Colour your images. I usually start with the darkest shades and end with the lightest but use the technique which suits you best.
Cut out the images.
Cut out a tag using the Terrific Tags Die from some patterned paper. I used a pretty striped paper from the Essential Rock Collection.
Adhere your florals and add a sentiment.
You can see how this tag came together in the video below or watch it in HD on YouTube.
How you do overcome your crafting fears? I'd love to know your tips and tricks.
Happy Scrapping.
Supplies: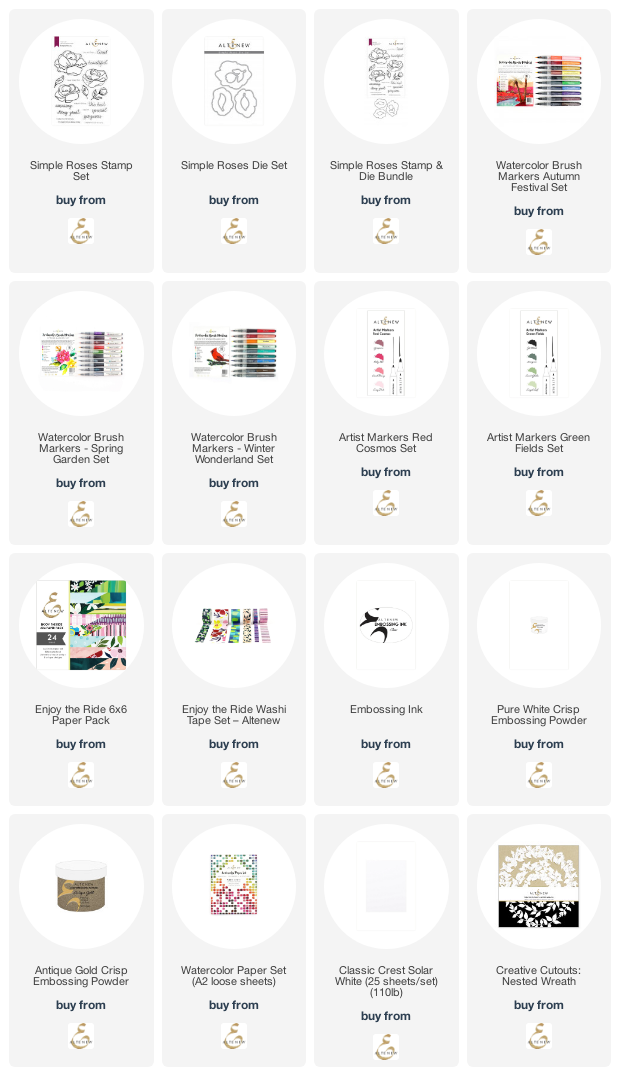 https://linkdeli.com/widget.js?id=f5e8378456858c916708