Hey, crafty friends! This is Maryám and today I'm going to be sharing with you how to create an 8 1/2″ x 11″ inches layout featuring some of my favorite layering dies, including the amazing Jumbo Garden Picks Layering Die Set and also the gorgeous Craft-A-Flower: Daisy Layering Die Set.
How-to:
To create my layout, I started out by doing some ink blending with the Trellis Stencil and the Frayed Leaf Mixed Media Ink onto an 8 ½" x 11" inches white cardstock. To do this, I placed the stencil over the cardstock, rotated the stencil 45º degrees so instead of diamond shape we could get a perfect square, and applied some ink with my Large Ink Blending Tool.
Because I knew that I was going to add some flowers later, I didn't cover the whole page with ink. I only tried to blend some ink on the top left corner and bottom right corner leaving the center white so I could add my photo later.
Building the layered flowers!
Now, to cut the flowers, I used my Mini Blossom Die Cutting Machine, as well as the Metal Shim for some of the more intricate or detailed dies. The Gradient Cardstock sets I used are: Summer Afternoon, Shades of Purple, and Green Meadows.
And the layering dies I used are:
Craft-A-Flower: Daisy Layering Die Set
Jumbo Garden Picks Layering Die Set
Craft-A-Flower: Rose Layering Die Set (only the leaves)
Once I cut all the pieces I needed, I started to build the flowers following the corresponding layering guides. To adhere the pieces together, I used the 2 in 1 Precision Glue Pen. This awesome glue pen features a fine tip that allows for a precise application of glue making it perfect for detailed die-cuts just like the ones we did before.
After the flowers and leaves were assembled, I divided them into two different groups and created two clusters. One at the top left corner, and then another one at the bottom right corner, right above my stenciled background. To adhere them in place, I used liquid glue for most of the pieces, except for three of the bigger flowers, for which I used foam dots to give them more dimension.
Following up, I added my photo, title, and journaling. For my title, I used the word "smile" which I created using the Mega Brush Alpha Stamp Set and the Frayed Leaf Mixed Media Ink again.
Last, but not least, I added some Tropical Forest Enamel Dots and, of course, some Antique Gold Sequins.
Let's take one more look at the finished layout!
Thank you so much for stopping by today! I hope you liked the project I shared using some of my favorite layering dies. If you have any questions, please leave them in the comment section below. I'll be happy to help you.
Hope you have an awesome day!
~SUPPLY LIST~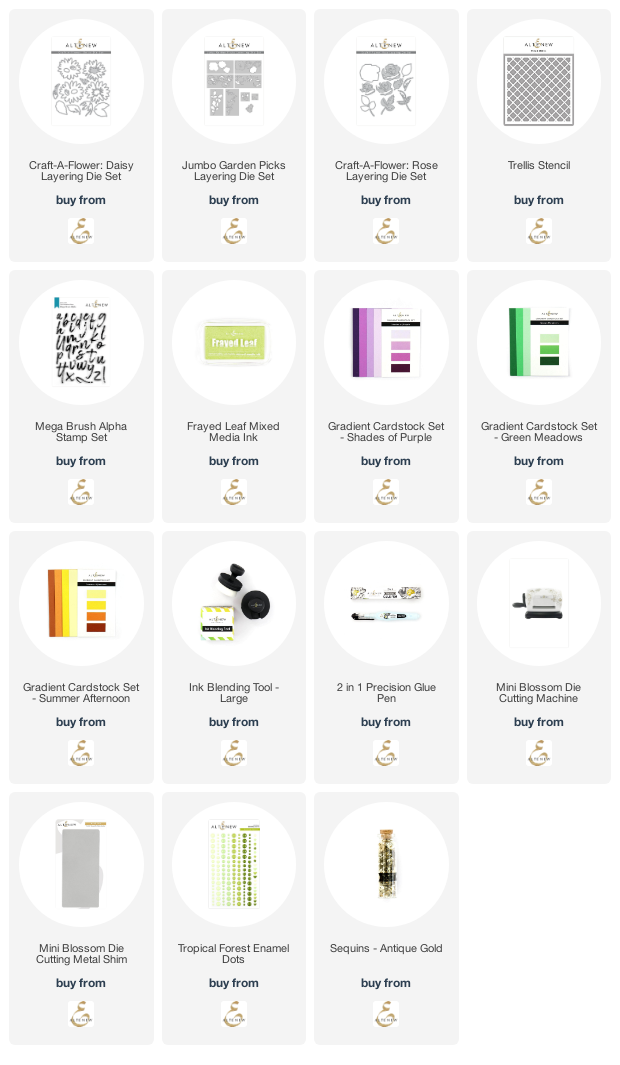 https://linkdeli.com/widget.js?id=f5e8378456858c916708