Hello Altenew friends!,
Nathalie here with a fun tutorial on how to create monoprints for your memory keeping.   We all love one-of-a-kind products; so, how about we create our own prints using Altenew Mixed Media inks, stamps and a geli plate.  Creating single impressions of an image (made in a re printable block) is the principle of monoprinting, therefore you will create unique memory keeping layouts each time.    Let me show you my creations using this technique:
The process of creating prints using a geli plate is fun, addicting, and always surprising.  Each print is unique and can be created to fit the mood of your memory, just imagine the possibilities!
Today is the Day layout
This page showcases a print created by mixing Frosty Pink mixed Media ink and Grapevine Mixed Media Ink on the geli plate.  The impression of the Paint-a-Flower: Peonia Japonica  and all the faults in the print result in a unique background for the page.
The soft monoprint of the stamp is altered into the title and journal cards for this layout.  First, a simple chipboard title, then Just a few pops of shimmer – Antique Gold Sequin–  and  finally a few lines of journal complete the layout.
Autumn You Are Marvellous layout
This next layout features a mixture of inks and stamps in the print.  First a combination of Forest Glades Mixed Media ink and Grapevine Mixed Media Ink on the geliplate; then a continuous impression of the Retro Plantines Stamp set, and finally a few splatters of ink create the rustic look of the tag.
The title card is created with a similar print, however it was altered (trimmed) to fit in the pocket.   The soft leaf impression is the main feature of the card; so, a simple title is all you need to complete the page.
The color combination is ideal for the Autumnal picture.  The small ink splatters just reminds me of the faults in paper printing. I created a video to show you how fun and easy this technique is.  You can watch  the video here, or in HD at the Altenew YouTube Channel:
ARVE Error: need id and provider

I hope these inspire you to try monoprinting for memory keeping or cardmaking using a geli plate.  But be warned, it can be a very addicting technique that yields beautiful unique prints!
XO
———— SUPPLIES ———-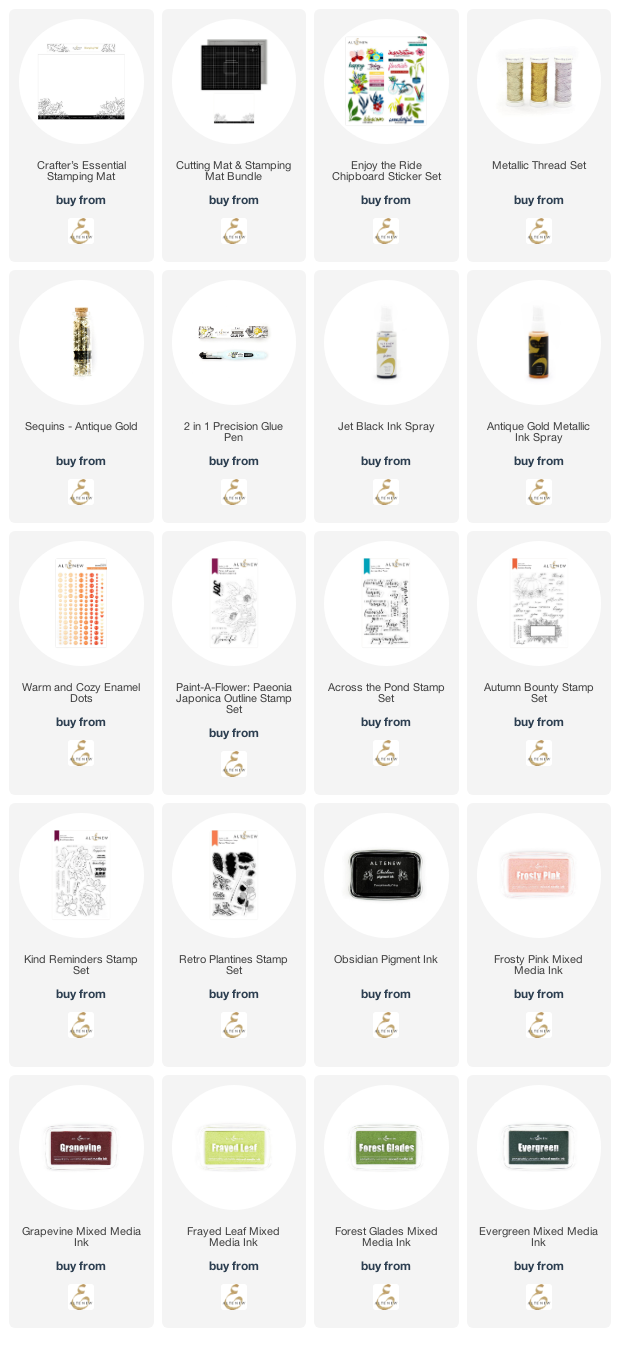 https://linkdeli.com/widget.js?id=f5e8378456858c916708