Hi Friends,
Today I am sharing a video tutorial and an overview the Altenew Fine Liner Set. To show case them, I made three projects to showcase ways on how you can use them.
The fine liner pen set contains three pens and one brush pen. They all contain waterproof jet black ink, making them the perfect complement to watercolor and other water-based mediums. 
Video Tutorial
For more detailed instructions with voice-over, watch how I made the art journal page in the video below! Feel free to watch it on Altenew's YouTube Channel HERE:
Drip some paints from the Watercolor Pan Set on to a thick piece of A4 cardstock and spread by scraping them with an plastic card. I chose three colors that I knew would work well together. Once it was dry, I added in some rough marks with a pencil.
I let the page dry completely and added some scribbly lines through the Modern Circles Stencil with the Fine Liner Pens. Cut the pieces down into size: 6 x 8 for the art journal page, 5.25 x 4 for the art card panel and the final piece I die cut using the Terrific Tags Die Set.
I stamped sentiments from the Better Together 2 Stamp Set and corrected any mistakes using the Fine Liner Pens. I then added some marks using the Brush Pen from the set to all the cut pieces. Then, use the Leaf Drops Stencil to apply Embossing Paste with a palette knife.
To finish, add ribbon to the tag and add the art card panel to an A2 card blank.
Thank you for stopping by!
I hope that you all enjoyed the video tutorial as much as I loved making this mixed media art journal and cards! You can check out more of my mixed media projects and videos by clicking here. If you have any questions, please do leave a comment on the video or on the blog.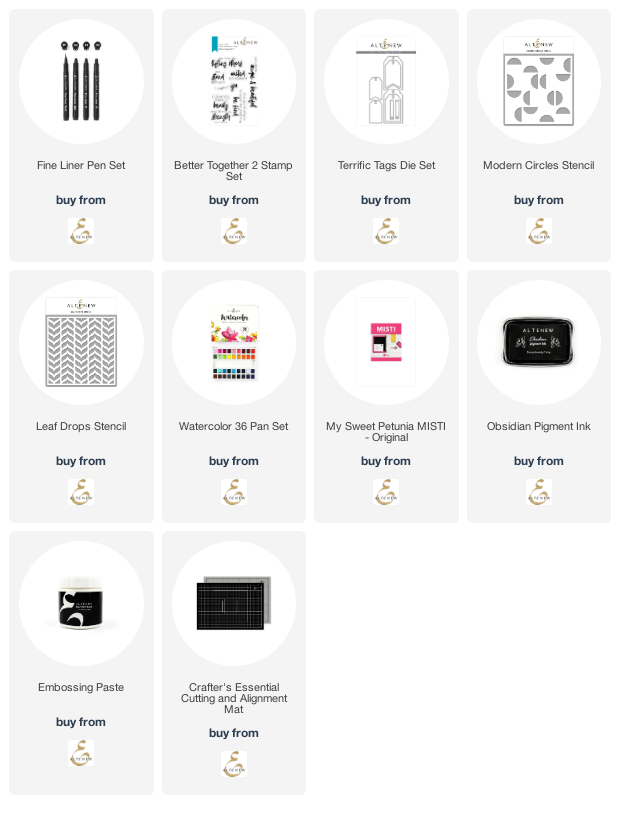 https://linkdeli.com/widget.js?id=f5e8378456858c916708
Take care and have a great day!