Hello, Crafty Friends! This is Maryám, and I am so excited to be back here on the Altenew Mixed Media Blog. For today's post, I am not going to be sharing a scrapbook layout as I usually do, but instead, we are going to take a closer look at the new Mini Ink Cube Label Decal Set.

But what are these mini cube labels?
These labels are decal stickers meant to be used with Altenew's Mini Ink Cube Sets. The labels were designed so they would perfectly wrap around the sides of the mini cubes. That way when the lids are off, you can easily identify the colors and put them back together where they belong.
This decal set comes with five sheets including labels for all 127 ink colors available at the moment, 31 ink set names or also known as color family names, as well as two fun patterns.
How to use the Mini Ink Cube Label Decal Set

Now, to apply the label to the mini ink cube, start in the middle of one side and then go around all four sides. The labels are slightly long, so the ends will overlap a little bit. You may leave them as is, or trim the ends with your scissors or a kraft knife. It's up to you! In my case, I decided to leave them as is since it doesn't make a big difference.
The guess work of which lid belongs to which ink pad is now over. This amazing decal set, will help you keep you inks organized, plus now you are going to spend less time matching the ink pad bases to their respective lids and more time crafting, which is the fun part, right?
Thank you so much for stopping by today! I hope you enjoyed the post and loved this new amazing decal set as much as I do. If you have any questions, please leave them in the comment section below. I'll be happy to help you.
Hope you have an awesome day!
~SUPPLY LIST~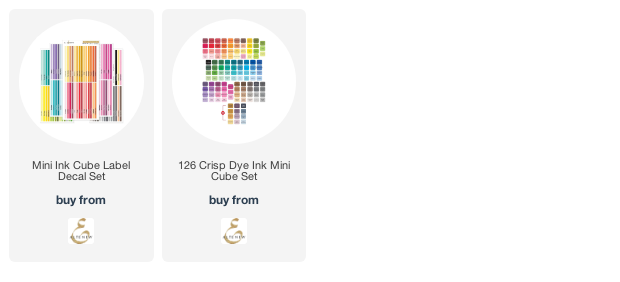 https://linkdeli.com/widget.js?id=f5e8378456858c916708