Hi Friends,
Today I am sharing 3 different mixed media ways to use the Swirl Motif 3D Embossing Folder. I chose to make a mixed media art journal page, a card and a tag.

I had just received a pack of vintage ephemera that I had ordered a few days ago, so I knew I wanted to use those! For the 6×8 Art Journal page, stick down torn music sheets with matt gel medium. Let it dry thoroughly. Thinly apply a layer of gesso and dry this as well. Repeat to add more layers in different areas.
Stamp a sentiment from the Kind Reminders Stamp Set with Jet Black Mixed Media Ink to add some visual texture. After the ink has dried, add some rough journaling or scribbled lines with a pencil. I like to do this to add hidden journaling by disguising my handwriting.
Dry emboss using the Swirl Motif 3D Embossing Folder over the book text or music paper, and blend Grapevine Mixed Media Ink with the Large Ink Blending Tool. Swipe the inkpad directly on to the art journal page edges to add more depth and highlight the embossing.
Dry emboss on a tag as well as an A2 cardstock panel and stamp sentiments from the Kind Reminders Stamp Set. Stamp and diecut all three flowers from the stamp set and use the Watercolor 36 Pan Set to roughly paint them in. Once dry, you can add some highlights with a white gel pen.

Before sticking down the flowers to your pieces, you can add black splatters using the Jet Black Ink Spray. Just make sure that you are drying in between each wet layer!

Video Tutorial for these projects is below:
Thank you for stopping by!
I hope that you all enjoyed my mixed media projects as much as I loved making them! You can check out more of my mixed media projects and videos by clicking here. If you have any questions, please do leave a comment on the videos or on the blog and let me know what you think!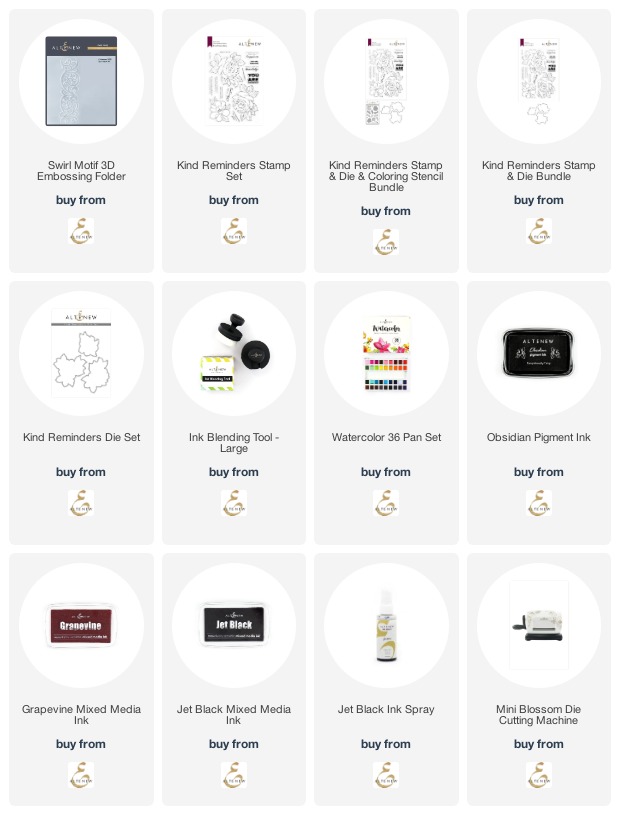 https://linkdeli.com/widget.js?id=f5e8378456858c916708