Hello friends!
I want to  share a few ideas on using alcohol Inks for Memory Keeping.  We all love those beautiful airy backgrounds alcohol based inks create.  These are very popular in card making and art journaling; but how about using them to document your next memory!    Let me show you my projects…
I am a mixed media lover, so whenever I have time, I love to play with alcohol inks and create prints.     Today, I am using a few of them, and transforming them into elements for my daily documenting.
I am using prints created with the following combinations ( from left to right): Limestone Alcohol Ink and Mountain Mist Alcohol ink, Lagoon Alcohol Ink and Mountain Mist Alcohol ink, and the last two : Sand Dunes Alcohol Ink and Rose Quartz Alcohol ink.
Project 1
For my first project, I  am using the entire alcohol ink background as one of the focal points in the spread.   The combination of Mountain Mist Alcohol ink, Lagoon Alcohol Ink, and  Limestone Alcohol ink provide a very masculine palette.
The beauty of alcohol ink backgrounds is the free and magical shapes and colors it features.   My choice to add a simple die cut title (Mega You Die, and Bold Numeral Die set) creates contrast from the background, but does not take away from its beauty.
To break a bit of the monotone teal shade, I am using the Decorative Swirls Die set to cut a few leaves from the Limestone/Mountain Mist background.  These are added to the title and also as decoration under the photo.   I added a small strip of the background as a way to ground the picture to the spread.   Just love how it turned out!
Project 2.
For this spread, I am using alcohol inks for memory keeping in a pocket format.  The Sand Dunes/Rose Quartz prints are transformed into patterned paper, embellishments and a journal card.
The Whimsical Garden Layering set cuts the background for the flowers; then, the Slim Sentiments Die set cuts a title phrase from the left over piece.  In order for the alcohol ink color to show, I am using white cardstock to cut the outline of the flowers.
My last step is to cut the smaller print to fit into a 3×4 card pocket.  Once again, a simple sentiment and small die cut branches  complete the card.
Just love how easy it was to use Altenew Alcohol inks for my memory keeping layouts.  I might be pulling more of my prints for future projects!!!
XO
———————-SUPPLIES———————-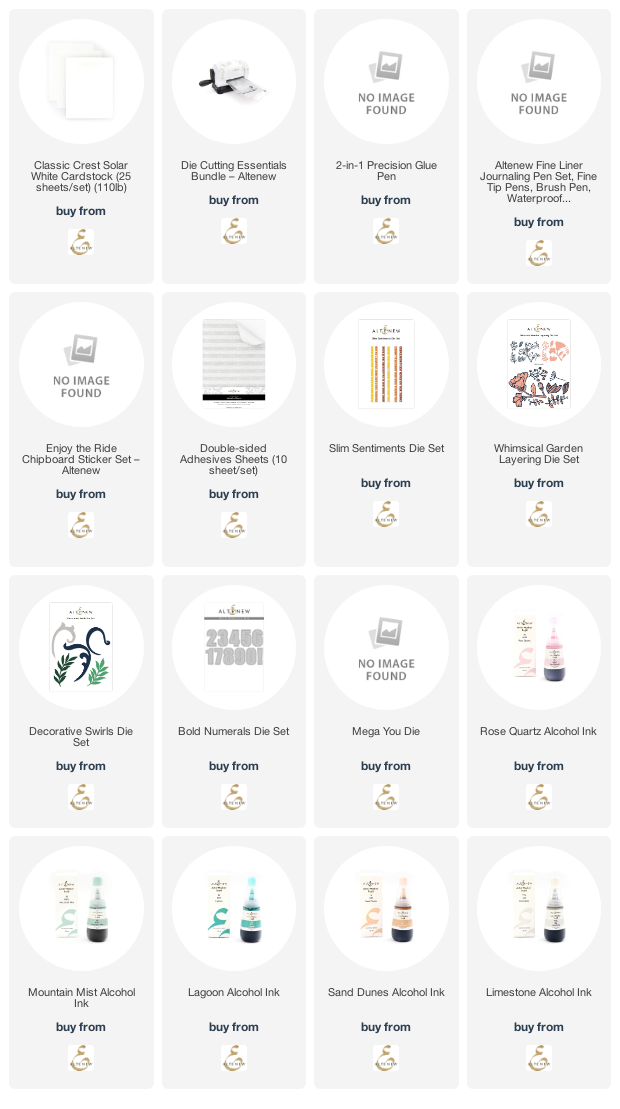 https://linkdeli.com/widget.js?id=f5e8378456858c916708