Hi Friends!

Today I am sharing 3 fun and unique ways to use Embossing Paste. They are not new techniques, and I tried these techniques out by giving them a more modern twist. So here are my favourite Embossing Paste Techniques.

Embossing Paste is one of my favorite mixed media products and there is more than one way to use it on your projects:
I made an art journal page, a tag and a card for my projects.
Ombre Heat Embossing – Art Journal Page
For the art journal page chop Watercolor Paper to 6″ x 8″ and apply Embossing Paste with a palette knife and Mighty Corners Stencil. Before the paste dries, sprinkle on Copper, Rose Gold, Antique Gold and Antique Silver Crisp Embossing Powder to create a gradient effect and heat set. Stamp sentiment from Whimsical Herringbone Stamp Set with Obsidian Pigment ink. Then, die cut black card stock with Floral Doodles Die Set and stick to background with clear drying glue.
Mixed Media Art Card
Apply a thin layer Embossing Paste to one sheet of A2 Watercolor Paper, almost like buttering your toast! Apply Antique Gold Pigment Ink to the Whimsical Herringbone stamp set and gently stamp into the wet embossing paste. This leaves a beautiful impression of the stamp AND you get the gold ink sitting in the crevices too. Don't you just love the texture?

Note: Clean your stamp ASAP with an old soft toothbrush under running water to remove the paste before it dries!

Let the Embossing Paste dry completely and add to an A2 black card blank, add sentiment from the same stamp set, and add die cuts from Floral Doodles Die Set.
Stenciled Mixed Media Tag
Mix Embossing Paste with fluorescent acrylic paint and mix with a palette knife. Roughly apply paste mix through Patchwork Kit Stencil to a navy blue tag. After it dries completely, add sentiment and die cut a flower from Floral Doodles Die Set in gold mirror cardstock and stick down with clear drying glue.

I hope that you try out some of these Embossing Paste techniques!
Video Tutorial
For more detailed instructions with voice-over, watch how I made the projects in the video tutorial below! Feel free to watch it on Altenew's YouTube Channel HERE:
Thank you for stopping by!
I hope that you all liked my projects as much as I loved making them! You can check out more of my mixed media projects and videos by clicking here. If you have any questions, leave a comment on the videos or on the blog and let me know what you think!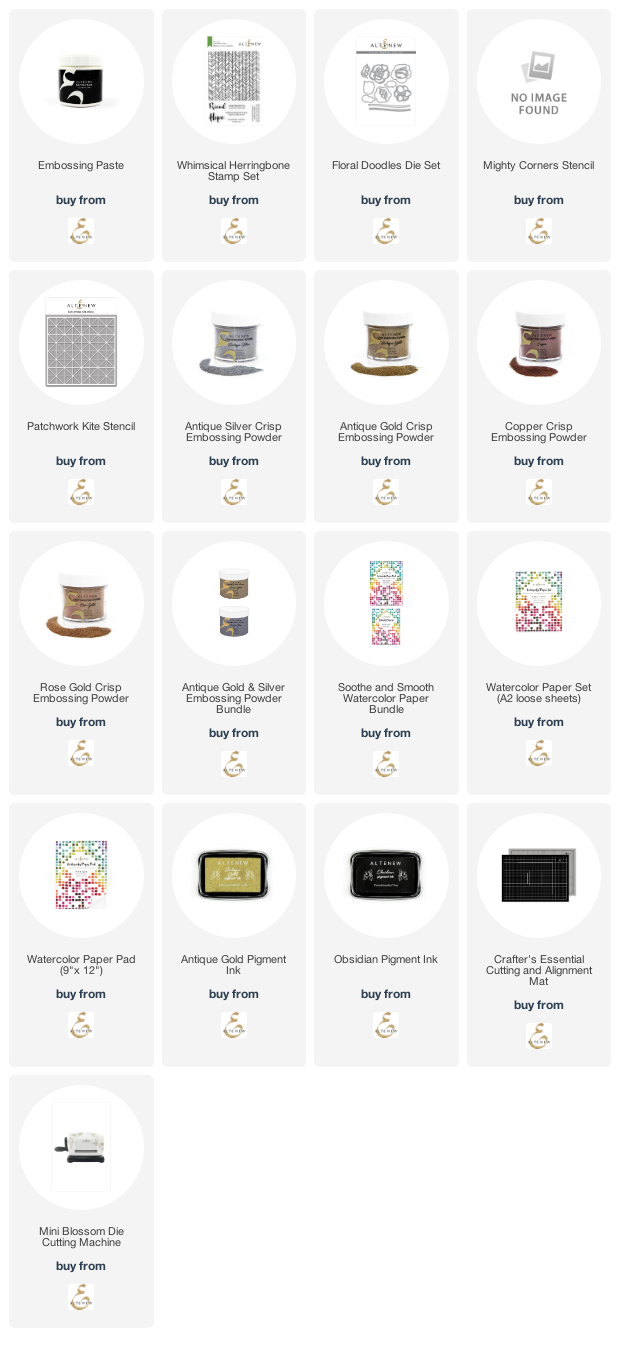 https://linkdeli.com/widget.js?id=f5e8378456858c916708