Hello everyone! Kymona is here to show you how to use ephemera packs to make mini gift tags.
Who doesn't love a cute gift tag accompanying a gift? Creating your own tags is always fun and special when you have the right supplies. How many of you have the ephemera packs and aren't sure what to do with them. These mini tags are a perfect way to use up the small pieces in the ephemera pack.
Let's take a look at these mini tags:
See, aren't these cute. The use of pattern paper and matching ephemera do make these tags look great even better on a gift box or bag.
Here's how to make these cute mini git tags:
Materials
Wildflower Bitty Bits Ephemera
Handmade Tags Die
Mini Blossom Die Cutting Machine
Instant Dimension Foam Tape  
Lilac  Metallic Thread
Instructions:
Cut strips of the Wildflower Bitty Bits Ephemera.
Decide on which tag die you want to use.
Place the pattern paper and dies on the mini blossom die-cutting pad.
Run the pads through the mini blossom die cutting machine.
Cut as many tags as you need for your project.
Pick out the different flowers and ephemera pieces that you want to place on your tags.
Cut some pieces so that they fit on the mini gift tags.
Attach the ephemera to the tags via foam tape.
Finish them off by adding the metallic thread.
Simple but elegant.
You can add these tags to gift boxes, use them as bookmakers, or give them as small gifts to loves ones. They are perfect for all occasions.
Look at how nice these mini tags look.
Super simple, easy, and fun to make. You can make tons of mini tags in minutes.
I hope you enjoyed this project. What would you make a mini gift tag for?  I would love to hear your thoughts. If you would like to see another project I created, click here.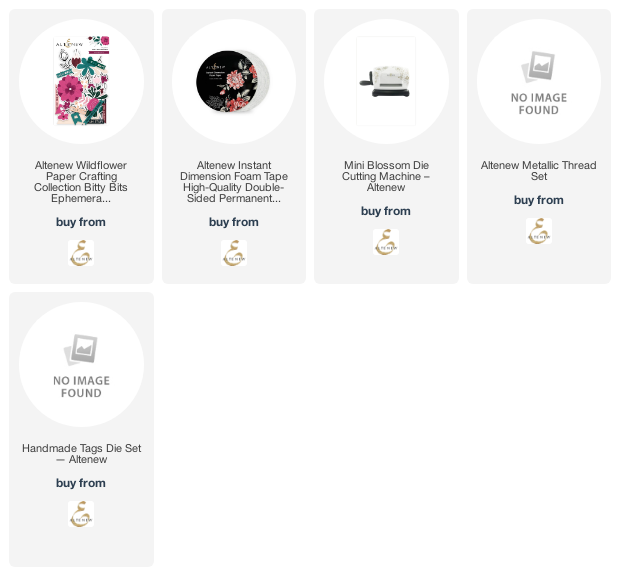 https://linkdeli.com/widget.js?id=f5e8378456858c916708