Hello Crafty Friends!
Nathalie with you today to share a  fun idea on adding a touch of mixed media to your journal pages.   For many, the words, "Mixed Media" represent  layers of colors, textures, and the fear of messing up.  Well, Altenew has a large range of products that can help you experiment with techniques in your projects.  Let me show the final project:
The key to mixed media is working on layers.   Whether it is color, texture, or design, layers are the best way to construct your mixed media application.   Let me show you on the project
 Color Wash background
I started the project by adding a color wash (Dusk  Liquid Watercolor Brush Marker refill and Mountain Mist Liquid Watercolor Brush Marker Refill) to heavy white cardstock.  A few splatter of water creates those bleached spots on the background
 2. Stenciled details
The new Pigment inks are probably one the best mediums for mixed media, as it can create different looks and textures with their application.   I am using the  Lacy Tiles Stencil, and my ink blending tool to add the impression on the page.  The pigment ink formulation  allows for embossing, which adds texture to the page.  I  am using Transluscent Pearl Crisp Embossing Powder to add a bit of texture to just some  areas of the background.
3.  Textured Embossed Images
Texture and dimension are two more qualities that can be used in mixed media.  This time, I am using embossing powders to add texture to the page title ( Modern Alphabet stamp set, Modern Hello Stamp set).   In addition, I  am using embossing powder to add texture to the Dovetail Butterfly Die cut.   This is then attached with a piece of foam adhesive to the page thus creating more texture and dimension.
4.  Add a pop of shine.
My last layer of mixed media -my finishing layer- always adds a pop either of color, or in this case shine.  For this, I am adding splatters of Antique Gold Metallic Ink Spray, but removing the excess fluid right away.   This produces a distressed, soft layer that melds nicely with the previous ones.  You can watch this page come together in the upcoming video.  Watch it here, or in HD at Altenew YouTube channel:
[youtube https://www.youtube.com/watch?v=FSCFfbp5TyE]
I hope this inspires you to take a chance and add a bit of mixed media to your next project.  You will be  glad you tried!
XO
__________SUPPLIES____________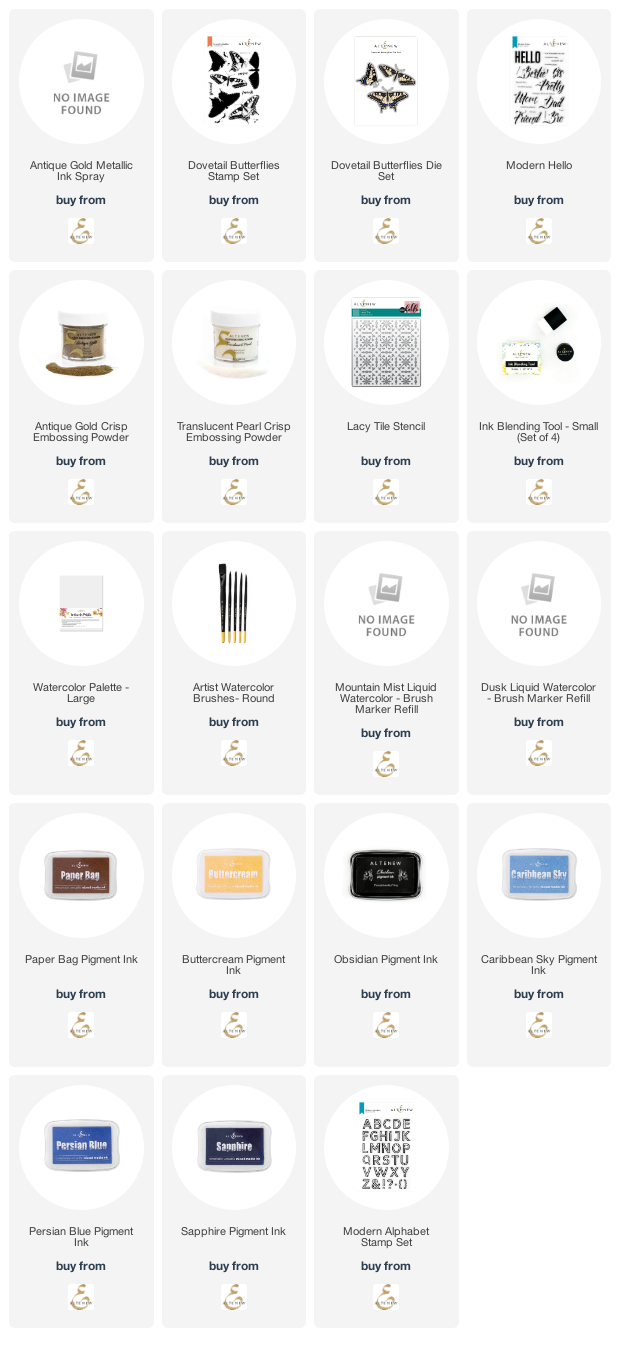 https://linkdeli.com/widget.js?id=f5e8378456858c916708