Hi Altenew Friends!  F is For Fall and Featured Florals!
Amanda here, & today I'm sharing All The Fall Feels! Such a beautiful time of year to document, spend time with loved ones, get cozy, read, bake, craft and most of all, give thanks! I just love this sweater weather! I also love Autumn crafts, so let's jump straight in &  find out which Altenew flowers are making the Featured Floral cut!
F is For Fall, and Featured Florals
Floral 'cut' was my big hint! If you guessed today's Featured Florals are stand alone die sets then you'd be correct! I've featured the lovely Layered Wood Flower Die Set & Floral Lace Die as my 'hero' products today! Plus, I've also stamped the tiny but mighty, Mini Delight: Winsome Bloom Stamp too!
Here's a look at my completed project:
Swoon! How beauti-Fall, indeed! Fall florals for the win!
Delightful Die Cuts!
Have you seen all the amazing Stand Alone Dies that Altenew offers? There are so many available, and I just love their intricate & well considered designs! The Layered Wood Flower Die Set  is a favorite of mine because it's super easy to layer, it looks realistic,  and it's compatible with the Mini Blossom Die Cutting Machine! What more could I want? Teamed with the New Purple and Coffee Break Gradient Cardstock Sets, this floral is definitely a Fall favorite!
Mixed Media Magic with Die Cuts
F is for Fall, and Mixed Media is for Magic! Color plays a significant role in Fall themed pages, so I opted for an Emerald watercolor paint for my page base. I applied my watercolor using a dragging motion with the packaging technique. (If you're not familiar with this technique, don't worry, you can see it in the video at the end of this post.) I also flicked some paint splatters in the same color, before adding the Jet Black inked Winsome Blooms! Simple techniques with big impact results!
The contrast of color between the mixed media base and the purple Layered Wood Flowers enhanced the striking design of the layout and created instant attention. The bright pops of color also complimented my black and white images, and ensured that my precious photographs (with the supporting Featured Florals) were the focal point!
Floral Enhancements
The beautiful Floral Lace Die was the perfect embellishment to adorn both the purple Wood Flower blooms, and support my sweet girl's photos. This intricate floral die not only enhanced the delicacy of the design, but also added a feminine touch to what was essentially a bold and striking page. Florals for the win – again!
It's All in the Title
When it came to adding a title to my page, the Enjoy The Ride Chipboard Alphas were the perfection option! I couldn't resist a play on words, and altered 'beautiful' into beauti-Fall! The burgundy tone of these alphas was also a fun addition to the color scheme, and complimented it beautifully!
To hint at the story on the back of my layout, I stamped a Grateful sentiment (from the Greatest Blessings Stamp Set) near my photo cluster and then finished off with a sprinkle of gold sequins!
Want to know more about how I created this page? Well you can see all the how-to in my upcoming video.  Watch it here, or in Full HD over on the Altenew YouTube Channel HERE.
I really hope today's F is For Fall, and Featured  Florals project has inspired you to start your Fall crafts! Also, if you have a floral you'd like featured, please be sure to let me know in the comments section below.
Thanks so much for joining me today!
til next time,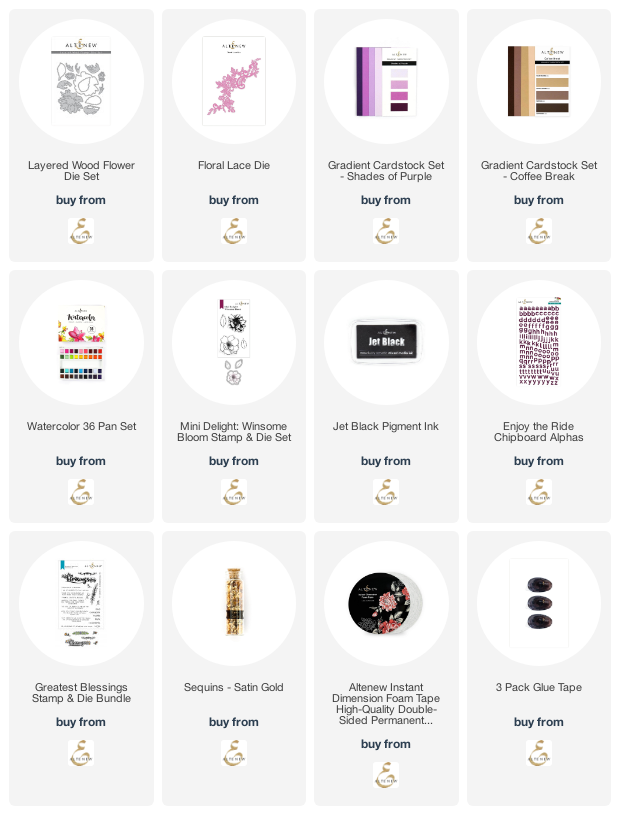 https://linkdeli.com/widget.js?id=f5e8378456858c916708