Hi Altenew Friends! Have you ever wondered how to use bold geometric paper in memory keeping pages? If so, then today's post is all for you!
Amanda here, and I can't wait to share which Featured Florals and techniques are my go-to solutions for this scrapbooking challenge. But first, here's a look at my completed layout:
Geometric Paper In Memory Keeping
Creating with bold geometric designs doesn't have to result in strong, striking modern pages. A few simple techniques plus a touch of florals is all you need to soften the look! I combined the circles Pathway Paper from the Wildflower Paper Crafting Collection and the Playful Patterns Builder Stencil Set for a really dreamy and pretty in pink page. Here's how…
Embrace the Look!
When it comes to any strong design element it's best to embrace and enhance the look. Circles are clearly the dominating feature in the Pathway Paper, so I took full advantage by cutting along their circular line to form a scalloped edge for my pattern paper trims. The scallop edging really softens the Pathway Paper, and allows it to shine rather than strike! For added impact, I foam mounted both scallop trims to my white cardstock base.
Going Round In Circles
Repetition in design creates unity and the impression of a more cohesive look. Basically, more is more! So embracing the Pathway circles was not enough – I needed to add repetition to this design element. I fussy cut my photo into a circle plus  I used florals with either spiral circles or clearly defined circle centers to build upon this circle frenzy.  Dots & circles were added to my mixed media background with the Playful Patterns stencil, and even my Wildflower Ephemera title, 'love' has a swirly script that mimics circles.  Yep, I was literally going round in circles!
With all the circle love going on, it was time to soften the overall look and feel of the page, as well as add those Featured Florals! There are a few different ways I achieved this:
Mixed Media Magic
I applied Coral Berry, Cosmic Berry, and Cotton Candy watercolors to my white cardstock base with the packaging technique. I intentionally selected these colors as they are reflected throughout the Wildflower Paper Crafting collection and really flattered the Pathway Paper.
The gorgeous Cherry Blossom Crisp Dye Ink colors are also dominant in the Wildflower collection, so I couldn't resist using them with the Playful Patterns Stencil.  Remember that repetition (even in color schemes) is everything!
Feature Florals!
As simple as it seems, adding florals to geometric designs will instantly soften and beautify your projects! The Playful Patterns Stencil Set was the perfect choice for adding a cascade of florals beneath my scalloped paper. For an even softer, and dreamier look I applied the Cherry Blossom inks with the small Ink Blending Tool. A really effective technique for creating delicate foliage and blooms!
To further enhance and soften my memory keeping page, I framed my sweet darlings' photo with a few of the larger Wildflower Ephemera blooms.
For finishing touches, I sprinkled tiny Wildflower Ephemera florals around my page! Simple, but so effective!
Want to know more about how I created this page? Well you can see all the how-to in my upcoming video.  Watch it here, or in Full HD over on the Altenew YouTube Channel HERE.
I really hope my project has given you some tips and ideas on how to add bold geometric papers in your memory keeping pages!
Thanks so much for joining me today!
til next time,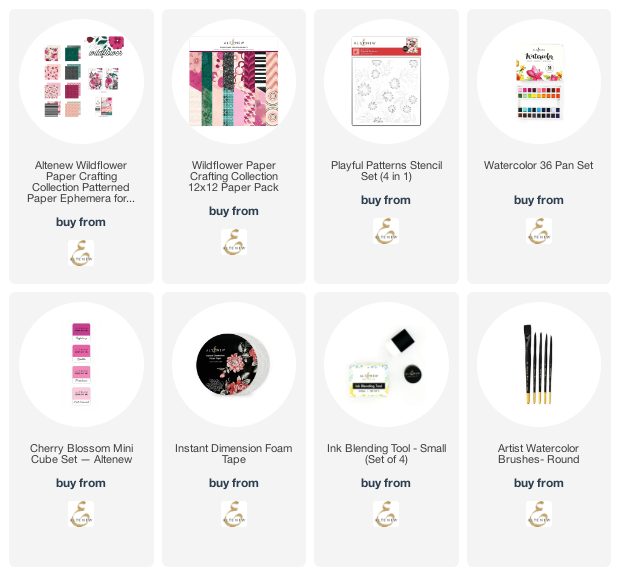 https://linkdeli.com/widget.js?id=f5e8378456858c916708