Hi Altenew Friends! Amanda here, and today I'm sharing two ways with washi tape as part of my Featured Florals series!
With so many beautiful floral washi tapes in the Altenew range, I just had to feature one! So what are we waiting for? Let's get started!
Today's Featured Floral is: Botanical Rhapsody Washi Tape!
This is a super 7″ wide washi tape that features a mix of elegantly hand-drawn rustic botanicals. This tape is perfect for creating stunning backgrounds and unique botanical arrangements. Here's a look at my two completed projects:
Oh how gorgeous! Two wonderful Ways With Washi Tape! Whether it's plain or colored, the Botanical Rhapsody Washi Tape is definitely a show stopper! Let's take a better look at each project:
1. Scrapbook Layout
The Botanical Rhapsody tape is perfect for scrapbook and memory keeping pages! Whether you use the tape as an alternative pattern paper, or background, or to create your own floral die cuts, this tape has you covered!

Wow! Did you spy that 95% of my layout is crafted with the Botanical Rhapsody tape? Yes, it's that impressive! Apart from the cardstock base, one chipboard sticker title (courtesy of the Live Your Dream collection) & a sprinkle of enamel dots, this page is ALL about that Featured Floral!
Add A Pop of Color!
To make the rustic hand drawn botanicals even more dramatic, I hand colored them with the Sunshine Valley Garden Artist Alcohol Markers. Such a simple idea, but really attention grabbing! Watch 'how' I colored them in the video at the end of this post!
As the dominating element on the page, it was essential that I used the hand colored washi florals to frame my photo and create a cluster. This ensured that my photograph remained the focal point of the scrapbook page.
Such a beautiful way to incorporate washi tape into scrapbooking! I hope it inspired you!
2. Off The Page / DIY / Home Decor & Gift Creating!
I love creating beautiful framed photos as gifts, and with just a few simple items this sweet gift is one you can recreate in a matter of minutes!
How dreamy & divine! It's no secret that florals are perfect for wreath making, but using washi tape florals with an embroidery hoop to create a wall hanging is genius! I colored the hoop with Grapevine Pigment Ink. The pigment inks are great for coloring all types of porous surfaces and best of all, they don't fade! These Mixed Media Inks become permanent once heat set with a heat gun.
Framing Florals
Before I could attach my washi botanicals to the hoop, I needed to make sure they were sturdy enough to hold their shape. To do this, I backed the washi tape with white card instead of paper & then taped into position on the inked hoop.
Picture Perfect!
To make my photo sit perfectly in place, I backed the hoop with one of the Gel Printing: Soft Washes Paper Pack papers. To this paper base, I glued a small flower bed of washi florals , and adhered my photo over the floral base. Just like a miniature scrapbook page!
A pretty satin ribbon and a sprinkling of glass beads completed the project!
Such a lovely gift that you can create in a matter of minutes!
To see 'how' I crafted both Two Ways With Washi Tape projects, please watch my video below, or in Full HD over on the Altenew YouTube Channel HERE.
I really hope my projects have inspired you to get crafting with some floral washi tape today!
Thanks so much for visiting,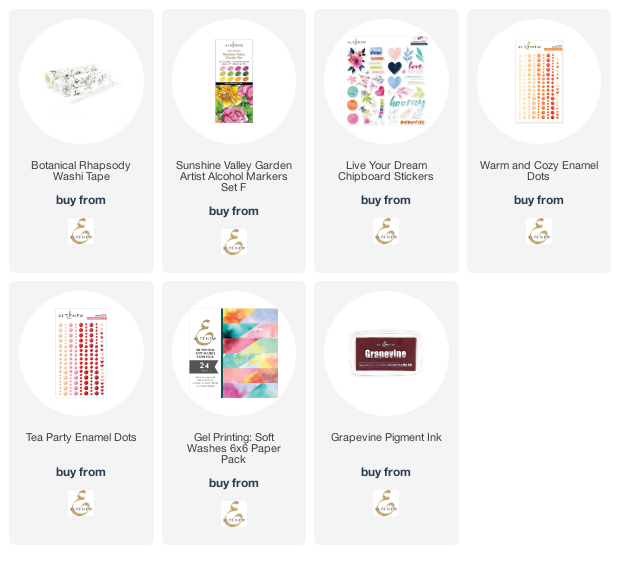 https://linkdeli.com/widget.js?id=f5e8378456858c916708