Hi Altenew Friends! Amanda here, & today I'm sharing 5 new tips on how to scrap the boys with florals!  Or maybe you're just looking for some mixed media inspiration? Either way, I'm sharing both in today's edition of Featured Florals!  So what are we waiting for? Let's find out today's Featured Floral!
First, here's a look at my completed project:
"Born to Surf"
Wow! How cool is this?! Such a fresh & fun, mixed media page with florals!
Today's Featured Floral is the gorgeous Fresh Bloom Stamp and Die Set.  This is a really modern and contemporary set that features the very unique & somewhat wild, Fauriei poppy. ( A little like my son – unique and growing like a wild flower, that is!) So how did I craft such a masculine floral page?
Here are my 5 New Tips on How to Scrap the Boys with Florals:
1. Keep It Simple!
When it comes to masculine pages, a simple and uncomplicated floral works best! There are a few different ways to achieve this:
For this layout, I opted for the Fauriei poppy featured in the Fresh Bloom Stamp. It's clean and elementary design make for perfect blooms that don't demand too much attention when they're combined with a monochromatic coloring approach.
2. Get Inky!
Pigment inks, also known as Mixed Media inks are water-based and  leave a gorgeous and detailed impression every time. They are so easy to use & I honestly love them for crafting beautifully layered florals! To create an effortless but realistic looking flower, I stamped the 4 layers of the Fresh Bloom to with the Glacier Caves Pigment Ink Bundle. This monochromatic coloring ensured that the blooms had perfect shade and tone, but still remained subtle. I just love how effective this looks! The complimenting Green Fields Pigment Ink Bundle was ideal for inking the foliage, and adding a pop of color through the blue background.
3. Make Some Mess!
I always like to add that 'edge' to my masculine pages with some mixed media fun! Having an edgy or raw vibe aids to balancing out the femininity of the florals, and gives a stronger, less controlled feel to the overall design. In this layout, I loosely painted some blue & aqua watercolor stripes to mimic the ocean in my son's photo. I also added a few flicks and splatters to mess things up and create a small distraction!
4. Add Texture & Layers
Building up texture and adding layers will instantly capture visual attention!  For this layout, I was able to enhance the masculinity of the page by supporting my photograph with more textural elements than florals. Apart from the painted base, you'll also spy roughly cut pattern paper strips (courtesy of the Live Your Dream Scrapbook collection) that I have messily machine stitched onto the cardstock base. I layered my florals over these paper strips, before foam mounting my sweet boy's photo over this cluster. As I didn't want the florals to dominate, I only permitted one of the Fresh Blooms to be completely revealed and not tucked into the layers.
5. Be Bold!
My final tip for my 5 new tips on  how to scrap the boys with florals is to be bold! Add a contrasting or striking detail, or even a punchy title to break further away from the delicacy of the florals being featured. The Essential Black & White Enamel Dots combined with the glossy and dimensional Live Your Dream Puffy Alphabet Stickers really cut through the blues and greens of my layout and added that visual point of interest.
Seriously cool creating with boys & blooms! I think the Fresh Bloom Stamp and Die Set really showcased it's versatility in today's project & is definitely worthy of today's Featured Floral title! I hope I have inspired you to get inky with it!
Want to know more about how I created this page? Well you can see all the how-to in my upcoming video.  Watch it here, or in Full HD over on the Altenew YT Channel HERE.
Did you find my 5 new tips on how to scrap the boys with florals helpful? If so, be sure to let me know in the comments section below. Thanks so much for joining me today!
til next time,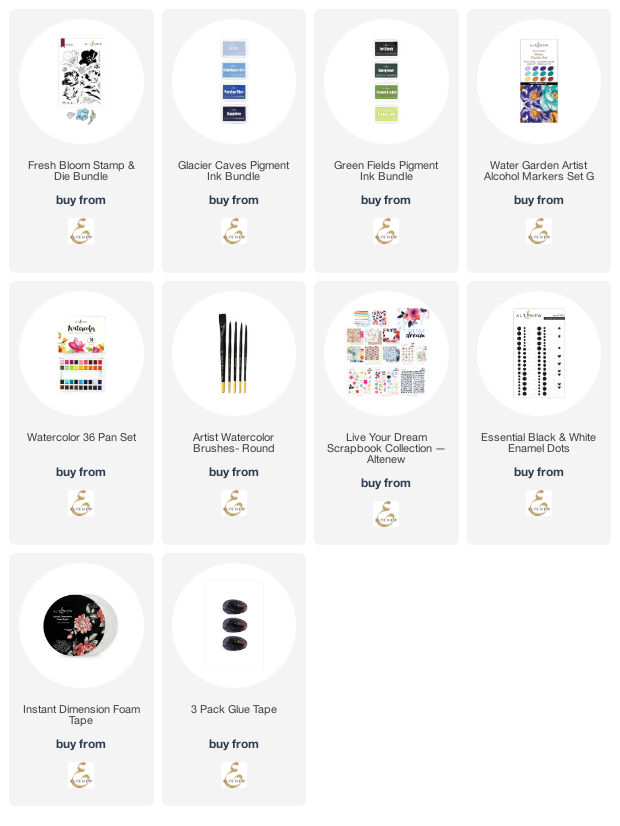 https://linkdeli.com/widget.js?id=f5e8378456858c916708