Hi there!
Nathalie with you today with a some inspiration on creating a new interactive memory keeping element using the new Note For You die set.  This new die set is so versatile, as it can help you create envelopes,  sentiments, and small decorating elements to your projects.   I love the delicate border edges as they are an easy way to add texture and interest to a project.   Let me show you my project.
This interactive elements opens as gates to reveal more content inside the gates.  This is how it is built:
Gate opening
The page is constructed so that two flaps open up to reveal a new photo inside.   To create the flaps, I am using the scallop border die from the Note For You Die Set.   I am, also,  using washi tape ( Gold Splatter Blush Washi Tape, Cosmic Berry Wide Washi Tape) and copy paper to  add the color combination of the scallops.    By alternating the colors of the borders, I am accenting the texture and dimension of the layout.
2.  Reveal Page
The gates/flaps of the interactive element open up to reveal more content.  I am using Gold String Washi Tape to cover the back of the gates.  This provides a clean look for the page, plus helps to frame the image inside the flaps.     I am attaching the gates to a panel that is very contrasting in color ( Pink Watercolor Washi Tape) thus making the reveal more impactful.
3.  Simple Closure
I am keeping the closure of the interactive element simple so that it can  opened easily without destroying the edges of the flaps.
4. Keep it simple
I am using repeating elements from the interactive element to finish the layout.  I am softening the straight lines  of the washi tapes ( page border and picture mat) with pieces of the scalloped border. In addition,  the Fairy Tale Florals Stamp Set image adds a soft edge around the journal lines.  A simple title ( Note For You Stamp set) finishes the page. I have created a process video on how to recreate the interactive element.  You can watch the video here, or stop at Altenew YouTube channel to watch it in HD:
ARVE Error: need id and provider

I hope this inspires you to create your own interactive memory keeping layouts.   Remember to share your finish projects with us!
XO
_______________SUPPLIES_______________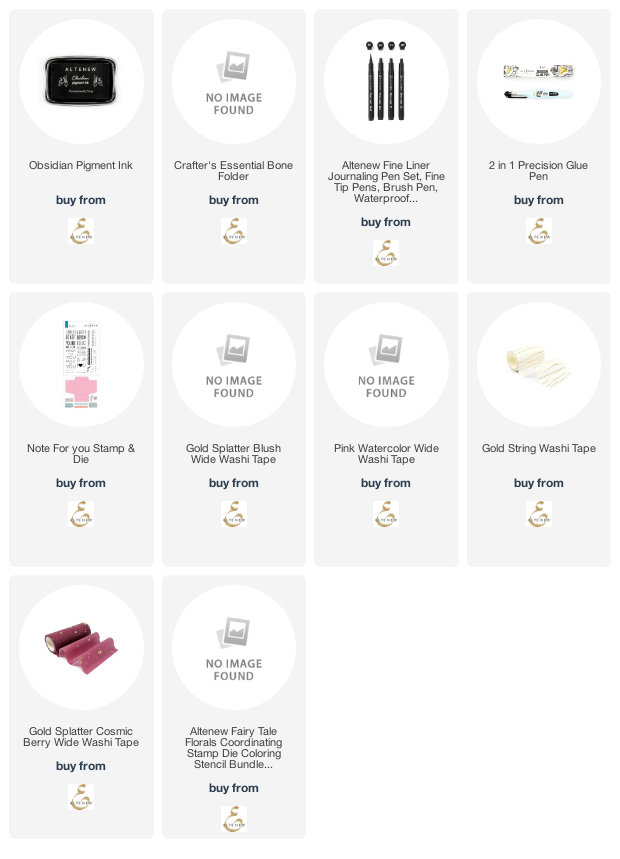 https://linkdeli.com/widget.js?id=f5e8378456858c916708