Hello friends!
Nathalie  with you today to share a fun idea for a new masculine memory keeping layout featuring Altenew's Hot Foil plates.   The new hot foiling plates are just an easy and fancy way to add detail and shine to your paper crafting.   Combine the plates with the delicate stamp designs and well crafted die sets, and you sure have a perfect combination.  Let me show you how I  combined them with a masculine palette in a new 6×8 album layout.
Let me highlight how you can create a masculine feel to your projects with the foil plates.
Color
I am using a very masculine color palette for my layout.   Cool tones of blue, teal, and a soft green are accented by the shimmer of gold and teal foil.   By restricting my palette to the these cool tones,  I am making the delicate florals not as fragile in the layout.
Classic and simple patterns
The new Tiny Patterns Hot Foil Plate is a great option to creating a simple and classic pattern for the  page.  For this layout, I am using the stripe pattern plate to create blocks of foiled cardstock.   By reversing the foil look of the pattern, the colors  repeat in the layout,  and the blocks create a second pattern for the page.
Add some angles
Masculine  designs are mostly filled with angles as a means to create a drastic difference from the curvy lines in  most soft/feminine designs. I am creating partial die cuts of the foiled Sparkle Bright Hot Foil Plate and Stamp images as a way to guide your eye to the photo, and frame the title.  The soft lines in the pin stripe design of the foil create a second angle on the diagonal lines of the design.
Add a focal point
Flowers are your best friend!!  I am using the new Sparkle Bright Stamp/Hot Foil/Die Bundle  to create a focal point in my page.   The soft gold foil in the flowers  contrasts with the cool tones of the inks.   The loose branches soften the angle lines, and frame the title of the page.
Process video
The following video of my series, Inspired by a Card with Nathalie,  will showcase how I put the page together following these principles.  You can watch the video here, or stop by Altenew's YouTube channel to watch it in HD
ARVE Error: need id and provider

I hope this inspires you to check the new hot foil plates and use them for a masculine paper project of your own.  Remember to share your finished projects with us!
____________SUPPLIES_____________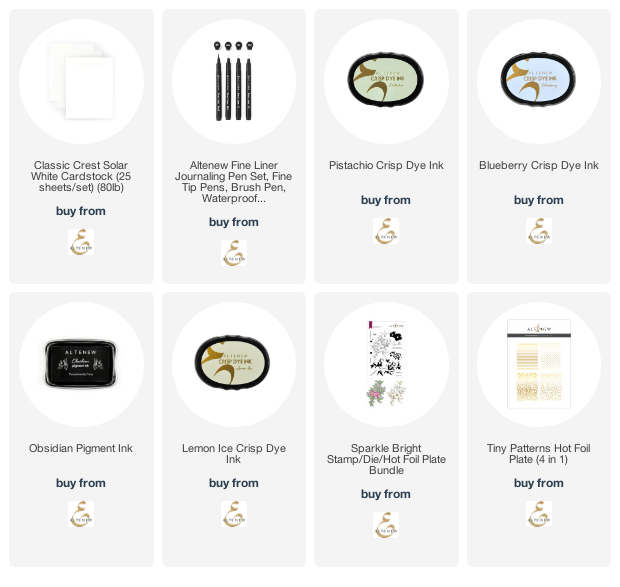 https://linkdeli.com/widget.js?id=f5e8378456858c916708