Hello there!
Today, I want to share a fun and colorful Christmas scrapbook idea with dies and embossing folders from Altenew.    Now that the hustle and bustle of the holiday season has finished; it is time to put those  memories in a special place.   Altenew has so many options to help you create those treasured keepsakes regardless of the memory keeping format.      One of my favorite products are dies and embossing folders, and I am combining both in this 6×8 Album layout
I love large photo spreads in my Christmas scrapbook albums.   The size of the photo allows for a large companion page to balance the spread.   That means there are opportunities to add texture, color, and dimension using different products.  Let me break down the idea in three simple concepts:
My photo has a lot of neutral tones;  this allows me to use color to add a festive feel to the spread.   First, I am using the pink/coral tones of the patterned paper ( Enjoy the Ride: Fresh 12×12 Paper) as a way to frame my title page.  Next, I am using two tones of ink to color the embossed background ( Pistachio Crisp Dye Ink,  Mint Choc Crisp Dye Ink).  Finally, the small tree embellishments (Tree Mix Die Set)are made from color patterned paper that match and contrast the colors in the background.
TEXTURE
I am using the negative space of the photo to add my journaling (this was done before printing it).   This creates a smooth surface for the embellishments, and adding texture to the spread.  I am repeating some of the patterned paper die cuts; however I am using glitter cardstock ( Gilded Glitter Cardstock) to create the number/date for the spread.  The small sentiment tag next to the number is made from watercolor paper dipped in ink.  The small twine piece and the tag, itself, just add more texture to the photo spread, in turn they add interest to the page.
Finally, dimension is always key for a impactful scrapbook layout.  I am achieving this in different ways.  Starting with the embossed background (Buffalo Plaid 3D Embossing Folder), followed by the layered tree die cuts.  I am also adding a few glitter stars ( Bundle of Joy Die Set)  as layers between the background and the trees.  This, emphasizes the embossed texture of the page.  However, the title ( Fancy Celebrate Die)  is attached as the top layer in the page.
The series of die cuts behind the "celebrate" word make the title stand out, but also add to the overall dimensional look of the page.  The small glitter star on the word just brings it all together, and shows the different levels of the page.
I hope this gives you a closer look  at how to create those special keepsakes.  Pull your Altenew dies and embossing folders, add some ink, and get your Christmas memories into your albums!  I cannot wait to see what you create!!
XO
===============SUPPLIES===============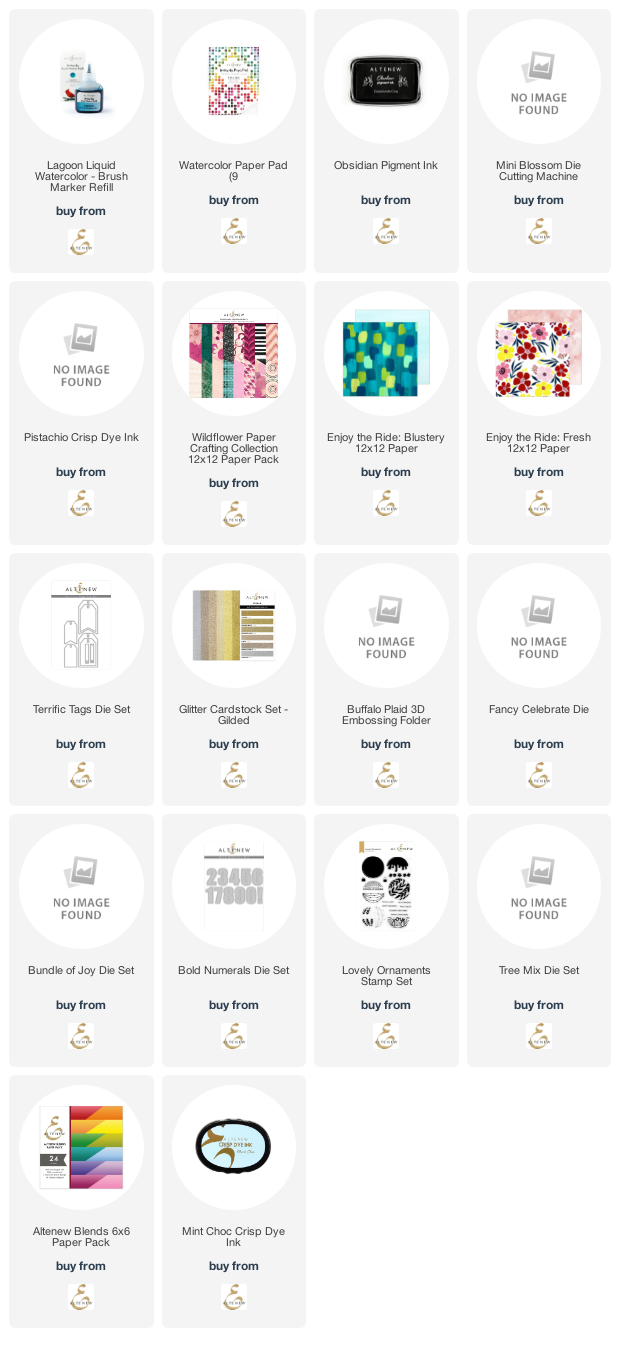 https://linkdeli.com/widget.js?id=f5e8378456858c916708